2MO bv has been founded by 2 experienced offshore individuals.
Backgroud information on Maarten Hardon
His education is Civil Marine Engineer. Started his career in 1980 as superintendent with Ballast Nedam, during the construction of the multy Billion Eastern Scheldt Storm Surge Barrier in The Netherlands.
In 1990 he became offshore director with Noordhoek Diving. ( called N-Sea today ). Maarten was responsible for all offshore subsea projects, with divers, ROV's and support vessels.
In 2000 Maarten started as general manager with Workships Contractors in Rotterdam. He was responsible for about 20 vessels, such as drilling rigs, survey-, construction-, AHTS vessels, working word-wide.
In 2007 Maarten was invited by the owner of Jack-Up Barge BV in Sliedrecht, to join this company as Commercial Director. Jack-Up Barge BV was at that time a new player in the offhore market with a newbuild program of eight units, specially built for the Oil and Gas and Offshore wind market.
In 2015 Maarten resigned and became advisor/consultant for several major clients.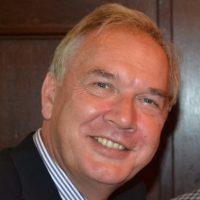 Backgroud information on Jan Roos
Jan Roos: Started his career in the Dutch Royal Navy as engineer and continued in the industry. He worked 18 years for Noordhoek Diving where he served from diver and rov pilot to marketing and sales manager, early 2000 he changed to the power cable installation industry, via Oceanteam where he worked 6 years as VP Marketing and Sales (based in Germany) he changed to Technip Offshore Wind where he served as Business Development Manager Northern Europe till December 2014 when Technip closed non-core businesses.